Always Focused on Serving You
We are here to help you
The leaders of Lincoln SDA Credit Union continue to monitor the latest updates regarding coronavirus disease (COVID-19). We want to reassure you that we're here to help with any financial services you need during these difficult times.
Access to your money
The safest and easiest way to access your money 24 hours a day during this outbreak is through our online banking services. If you do not have it on your mobile phone, now is a good time to download our app (look for Lincoln SDA CU in the app store) and enroll for online banking.
Lincoln SDA Credit Union participates in the MoneyPass, PULSE and VISA Plus ATM networks. We have a link to the MoneyPass ATM locator in our mobile app. You can also check these services online for locations of ATM's that participate in the network.
If you have a checking account you have access to BillPay in our online banking to pay bills without having to leave your home. There is also Bank Transfer for Account to Account Transfers and PopMoney for Person to Person Transfers. (If you don't have a checking account call-us and we can help you get one setup!)
If you feel you need to visit our lobby, our dedicated staff stands ready to help with any needs. In order to keep our lobby open and for the protection of our members as well as our staff, to not entered the building if you are sick, have recently been sick or have been around someone who is sick.
Remember social distancing while in our lobby. We have blue tape on the floor for a visual reminder of a safe distance while conducting your business. Our office is being sanitized following the latest public health protocols and directives to keep our employees and members safe.
If you've been financially impacted by this pandemic, our staff is prepared to discuss your options and help guide you through these uncertain times. Now, more than ever, we are here to support members like you!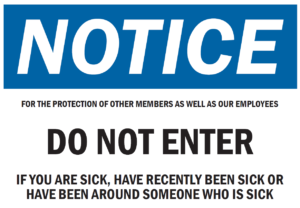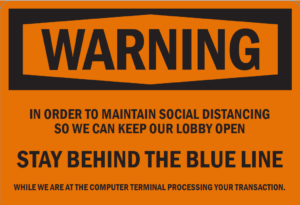 Protect yourself from cyber scams
 It is important to note that if we reach out to you, we will NEVER ask for confidential information such as your name, password, personal identification number (PIN) or other account information. You can review the Federal Trade Commission's advice for consumers to protect yourself from scams.
Promoting health and safety
We at Lincoln SDA Credit Union are proud to be a part of your lives and are honored by the trust you place in us. We are not only thinking about your financial security, but your health as well. We are working diligently to ensure we are utilizing the best health practices during this pandemic and staying up to date on the latest protocols and recommendations from public health authorities. Our number one priority is protecting the health and safety of our employees who are here to serve you.
We're here if you need any additional assistance
If you want to learn more about COVID-19, visit the CDC's resource center or your states health department website (Nebraska Department of Health). Please take care of yourself and those around you and do not hesitate to contact us for any assistance. You may text or call us with any concerns at 402-489-8886.
Sincerely,
Norm Peterson
Manager, Lincoln SDA Credit Union