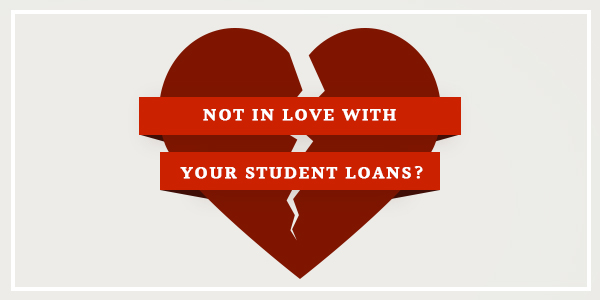 Valentine's Day just around the corner and love is in the air. But if you're not feeling the love for your student loans, now could be the right time to end that old relationship and refinance with Lincoln SDA Credit Union! When you refinance and consolidate your private, federal, and even parent (PLUS) loans into one manageable loan, you'll get the benefit of one convenient payment and could potentially lower your rate, saving money over the life of your loan!* What's not to love?
Competitive interest rates - Check them out!

Loan limit up to $125,000


Flexible repayment terms to fit your needs

No origination fees or prepayment penalties 

Easy online application and instant credit decision

A relationship with a local, not-for-profit lender you can trust
Refinancing your federal and/or private student loans can be a great way to consolidate payments and potentially save money on interest over time. However, refinancing may not be the best option for everyone. That's why it's important to research and discuss your options with an expert you can trust to see if it's the right match.
If you're in repayment on one or more student loans, let us help you fall in love with a new way to repay them!

Click here for more details and to apply
*Subject to credit qualification and additional criteria, including graduating from an approved school.
IMPORTANT NOTICE: By refinancing federal student loans, you may lose certain borrower benefits from your original loans. These may include interest rate discounts, principal rebates, or some cancellation benefits that can significantly reduce the cost of repaying your loans. Please review this important disclosure for more information.