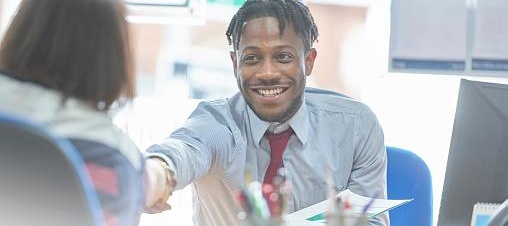 10 Reasons To Be Thankful For Your Credit Union
We often take life's many gifts for granted by failing to appreciate them deeply enough. As you start a new year it's a great opportunity to reflect upon everything that is wonderful in our lives and to show our gratitude for each and every gift we've been given. 
As you plan for the start of a new year, let's review 10 reasons to be grateful you belong to Lincoln SDA Credit Union.
1. Superior member service
At Lincoln SDA Credit Union, you're always greeted with happy faces and representatives who are ready and willing to help you. There's no cold, sterile atmosphere here! Instead, at Lincoln SDA Credit Union, every member is part of the family. We're truly invested in your financial wellness and we're here to help you achieve and maintain it, every step of the way.
2. You have access to better savings rates
We're not paying dividends to stockholders, and that means we have more savings to pass back to you. At Lincoln SDA Credit Union, we're proud to offer you share certificate and savings rates that are above the national average.

3. We make it easy to qualify for credit
The absence of a national bank corporate office enables us to be more flexible about offering lines of credit. We don't have to abide by overly strict credit qualifications—and neither do you! That makes it easier for you to open a new line of credit, even if your existing credit isn't perfect.
4. We offer lower interest rates
Need a stash of cash? Stop by Lincoln SDA Credit Union and take your pick of personal loans, home loans, auto loans and more, all with reasonable interest rates that are often lower than the regional or national average. We'll help you get the funds you need with a payback plan you can actually afford!
5. Your money is safe here
Federally insured credit unions and banks both offer insurance on accounts of up $250,000. But credit unions are also subject to strict regulations on their investments and loans. This means you can keep your money here without worrying about its security. 
6.
Low-cost
Checking Accounts
Our checking accounts exist to provide you with a safe, convenient place to store your money—not to milk you for it. Checking accounts at Lincoln SDA Credit Union are completely free (unless you bounce a check) as well as mobile banking and online bill pay.
Conversely, according to a MoneyRates survey, the average monthly maintenance fee for a checking account at a bank is $12. That's nearly $150 coming out of consumers' pockets each year!
At Lincoln SDA Credit Union you'll have a safe place to keep your money without it costing you a dime.
7. You own a piece of your credit union
Credit unions are member-owned and member-operated. You get to weigh in on our major decisions instead of being forced to follow along with whatever the higher-ups decide. Your money=your choices. 
8. We support small businesses
Credit unions are invested in the success of local small businesses. Here at [credit union], we're happy to offer small business loans to qualifying members at reasonable rates. We also offer business checking and business savings so you can run the financial side of your business without worrying about expensive fees and rates.
9. Fewer fees
Banks are notorious for slapping consumers with fees at any given opportunity. From steep overdraft fees to costly ATM fees, there's another bill to pay at every turn!
Here at Lincoln SDA Credit Union, we want to help you keep as much of your money as possible. If your checking account is mistakenly overdrawn, we'll help you untangle what happened instead of hitting you with high fees for the overdraft and every subsequent transaction. Any fees we do have are nominal and generally lower than what banks demand.
We also want you to have access to your money without worrying about expensive ATM fees. To that end, we provide our members with access to the MoneyPass network of ATMs with no cost for withdrawing money.
10. You have access to a variety of financial services
At Lincoln SDA Credit Union, we're a lot more than just a gigantic piggy bank. We provide members with an array of financial services to meet every money-related need at every life stage. These include: Credit Cards with no annual fees and low interest rates, Direct Deposit, Wire Deposits, Financial Education and Counseling Services, Investment Services, Youth Accounts, Holiday/Vacation Clubs, Holiday/Vacation Loans, Vehicle Loans, Notary Services, Online Banking and more!
As a member of a credit union, your money is always in good hands. Aren't you thankful you belong to Lincoln SDA Credit Union? 
Your Turn: Why are you thankful for Lincoln SDA Credit Union? Share your favorite reasons with us in the comments!